CX-5 sets new sales record as Mazda maintains top three position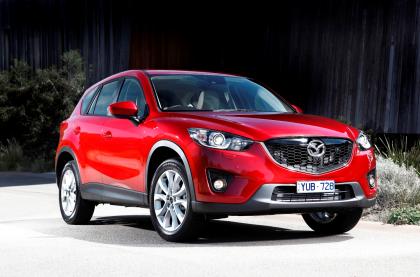 Jul 04, 2014
Mazda CX-5 smashed the record books last month by posting its best ever sales result since its 2012 launch contributing to an impressive total of 9,374 cars, SUVs and utilities in June, according to VFACTS figures released today.
Breaking the 2,000 unit mark for only the second time ever, CX-5 sold 2,211 units in June and broke its previous record by an impressive 175 units, further cementing its status as Australia's best-selling SUV. Demand for CX-5 continues to rise, with sales up 9.0 per cent Year-on-Year (YOY).
All-New Mazda3 also posted its best result since going on sale in February and its second-best June on record. A total of 4,059 Mazda3s found new homes in June and with a total of 22,524 sold Year-to-date (YTD), Mazda3 remains the country's best-selling car.
At the halfway mark of the year Mazda has sold a total of 51,910 units with a healthy 9.3 per cent market share and remains the country's leading full-line importer, as well as one of Australia's top three manufacturers.
Mazda2 was again a solid performer despite nearing the end of its model cycle, selling 1,016 units and maintaining its place near the top of the light segment with 6,616 sales YTD.
In support, both BT-50 and Mazda6 had their third best results for the year, reaching 1,189 and 585 units respectively. Mazda6 also retained its place as Australia's favourite imported family car.
Mazda Australia managing director, Martin Benders said: "A strong June result has set us in good stead as we enter the second half of 2014 in the top three automotive brands and with a very strong market share. Our new generation of products equipped with SKYACTIV Technology have been extremely popular with Australian new car buyers and with more models still to come we are set to give customers more choice than ever before."